EasyJet's Smart "Sneakairs" Makes Sightseeing Effortless
Time:2016-06-21    Read:178 Time
EasyJet's Smart "Sneakairs" Makes SightseeingEffortless
Most airlines go all out to ensure their passengershave the best possible flight experience. Now,Europe's low-budget airline easyJet, wants toextend the positive experience beyond the planeride with "Sneakairs" — Smart shoes that allowvisitors to explore new cities and towns without everlooking at a map.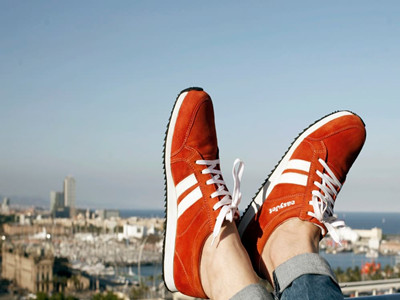 Unveiled at easyJet's Barcelona Street Project in mid-March, the smart shoes accomplish thismagical feat with the help of a tiny Arduino clone, a Bluetooth module and a vibration motorthat are encased in a plastic box and placed beneath the soles. In addition to protecting theelectronic components, the box also enables the vibration to spread across the entire foot sothat the user doesn't miss his/her cue to change directions.
To transform Sneakairs from an ordinary shoe to a tour guide, all the wearer has to do is enterhis or her desired destination into the easyJet smartphone app. A built-in GPS will determinethe wearer's starting location while the Google Maps navigation tool will help chart the bestroute. Whenever a change of direction is necessary, the app will communicate with theappropriate shoe via the Bluetooth and cause it to vibrate. For example, if the wearer needsto turn right, he/she will feel the sensation in the right shoe and vice versa. Should the userbecome engrossed in the surroundings and miss the turn, the smart shoes will both vibrateat the same time, alerting him/her to change course.
Visitors that wander off the suggested path or decide to take a break for a cup of coffee or ameal have nothing to worry about. The smart app will automatically determine the newlocation and chart out a new route. Once the desired destination is reached, Sneakairs willvibrate three times to inform the user of the arrival and then go back to being ordinary shoes— Until their navigation services are needed again!